Elastic String 3-core PES-grey 430 m/ kg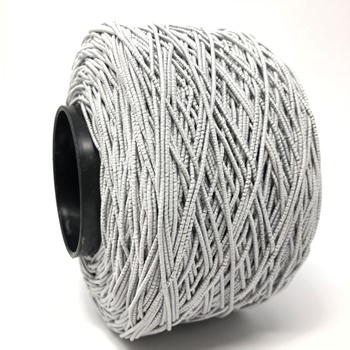 Stretch: 180 % - Technic: twisted
High-performance elastic string for processing on tyingmachines.

Amount of rubber cores: 3 pieces
Covering: PES (Polyester)
Colour of covering: white/ rubber: black = grey
Thread construction: twisted

Meter per KG: 430
Elongation: 180 %
Weight per cone: 0,9 kg
Cone: width: 110 mm, OD: max. 170 mm, ID: 74 mm.

PU:
18 cones per box (16,2 kg)
35 boxes per palette (1,10 x 1,20 x 1,80 Meter)

. . . . . . . . .

Elastic string for processing on binding machines from various manufactureres such as:

Schleuninger, Thun:
Tying Machine TM 66

Cyklop Nederland B.V., Zwolle:
Elastic Binder AXRO-FQC2, Elastiek bindmachine AXRO2 Basic, Elastiekbinders AXRO-IN2, AXRO-MD35/60, AXRO-MD35/60X

ARC, Offranville, Dieppe:
Binding Machines, Tying Machines BVI, LSI 90, BINDING MACHINES, ELASTIC STRING LSI 175, LSI 250,Binding machine for asparagus LSA 175, LSA 250, ECO, Packing lines and bunching lines to make bunches of vegetables, Binding machine for vegetables and herbs, Binding machine for asparagus

Felins, Milwaukee:
Coil Tyer, Offset Tyer, Pak-Tyer 2000, Sani-Tyer, Tag-Tyer, Tandem Tyer, Tying Automation
WhatsApp

Scan me!
Order No.:
A706121
Referenz No.:
eb.03.02.01.02
Unit:
Kilogram
Weight:
Your Item No.:
16,2